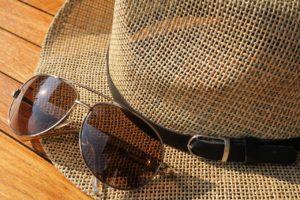 We know how daunting it is to pack for a vacation, especially if you've never been there before. So we thought we'd prepare a packing list for your convenience. Hope you find this helpful!
Food: everything you'll want to eat (Sandy Bottoms does not have a restaurant)
-something for the potluck night (Thursday eve)
Things to cook with: oil/butter, spices/garlic (we supply salt/pepper and condiments)
Snacks – healthy + junk food, potentially to share
Drinks: coffee/tea/hot choc, sugar/cream, bottled water (tap water is drinkable), mix -alcohol (no glass please!) Sandy Bottoms is not licensed
Dishes/cutlery are supplied – bring a To Go cup for morning coffee, plastic for drinks (lid/straw to keep leaves and bugs out)
-plastic shot glasses if you want to share shots, a bottle to share
– bottle of your favorite or homemade wine for the Wednesday wine tasting event
-ice for coolers (there is an ice machine in the lounge, but it produces on demand and therefore is not good for filling coolers)
Entertainment:
-Folding lawn chairs
-Blow up rafts/floaties for the lake
-Games, football, frisbee, volleyball
-music for your room, decorations for your room if you wish (no contest)
-drum, guitar or other instruments for jam night, coin belt (for dancing) (Wed. eve)
Glow sticks, glow decor and wearables, etc
-a good book, if you think you'll have time to read
Personal:
Toiletries (shampoo, soap, shaving supplies, medications, toothbrush/paste/floss,
(leave the perfume/cologne at home – these attract bugs!)
-towels for the beach, hot tub, and pool. Towels for bathing if you are in a cabin, villa or camping (towels for bathing only supplied in rooms)
-something to sit on if you'll be naked (towel, sarong, wrap)
-massage oil, condoms, lube, toys
-blanket – to sit on, wrap up in if cold at night/by fire
-hat, sunscreen, bug spray, After Bite, umbrella
-flashlight (for impromptu skinny dipping off the dock) – the resort is fairly well lit at night.
Clothing
You may not need much – we always pack way more than we need!
-a sarong, or other partially revealing outfits if you're not quite comfortable being naked
something warm for the evenings if needed (some evenings are cooler than others)
-water shoes, runners for the games or hiking
-sexy outfits, themed costumes (uniform, bikini, luau, cowboy boots/daisy dukes, pasties, glow in the dark/black light sensitive club wear, PJs/onesie)
There are probably a few more things you may wish to bring, but this is a good start to your packing list! Have a look at our Schedule of Events to see what other themed parties you may wish to pack for. Not to worry, if you've forgotten anything, our guests are super helpful and like to share, so you can always borrow something you've forgotten!
See you at Sandy Bottoms Resort!!