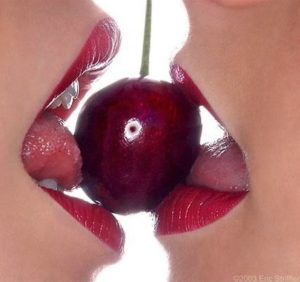 We found a forum on a swingers dating site, entitled "What's Your Game". Meaning, how do you flirt and show your interest when you find someone you might be up for playing with. We thought this was an interesting topic, so here are some of the most popular answers from both men and women!
Eye contact – Many connections start by making eye contact, often across a crowded dance floor or party.
Glances – Glancing is when the eyes travel around a room and fall on a person occasionally but frequently. Use a furtive side glance or glances that return over and over. With any luck, they will catch you glancing and recognize your interest.
Body movements – This could be anything from a hair toss to dancing provocatively. Keep your movements fluid and sexy, and avoid jerky, awkward ones.
Crossed arms convey animosity and tell others to leave you alone. Conversely, open arms convey openness to being approached. Slouching is viewed as lazy or bored. Stand up straight and lift your head for a more confident, attentive stance.
Hair (for the ladies) – A good hair toss is a Go-To for most women with longer hair. The right hairstyle and length can also offer a fringe to peak thru (see 'glancing'). Touching, playing with and twirling hair is often a sign of flirting.
Initiate touch of some sort – "I find reasons to touch him, on the arm or shoulder. If I touch him more than twice, it's a sure bet I'm interested."
Positioning – "If I position myself beside you or directly in front of you, I'm probably interested"
Swagger – A good swagger can really convey confidence. An over-exaggerated swagger can backfire if it comes off cocky and arrogant. So practice!
Pay a compliment – This shows interest and is a great ice breaker. It can be about their personal appearance or some other observation. "Wow, those are some sexy shoes! They make your legs look great!" Or "You really captivate every eye in the place, including mine."
Get a little closer – Getting closer will allow them to smell your scent and pheromones. Scent is definitely high on the list of attractants, so good hygiene is a must.
Offer to buy them a drink – This is an oldie but a goodie. And still works today.
Be attentive – Don't look around the room when chatting with someone: Turn your body so you are facing them directly, look them in the eye, listen to their words and respond appropriately. Respond non-verbally with a nod, a smile or similar to encourage them to continue with their conversation without interrupting.
A kiss – Giving a kiss, even on the cheek, is a pretty clear indicator of interest in another person. Of course, that's off the table for some couples, so be sure to ask first!
So there you go! A few ways to break the ice when you see someone at a party or club that you may be interested in. Go forth and flirt!