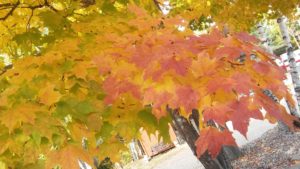 It's October and Sandy Bottoms is closed for the winter, but that doesn't mean we're sitting back and relaxing. There is still plenty of work to do on the grounds. We were so busy this year that some of the projects we thought would be finished this summer are still lingering. So we're working hard to get them finished before the snow flies!
The Washroom trailer has been all but finished, with just a bit of trim left to complete. This washroom trailer utilizes a tank rather than our existing septic system. This should alleviate the strain on our system when we are a full house. This facility is located right behind the Dome.
Next to that is the new shower facilities. There are 4 individual shower stalls. Each stall has its own locking door, unlike the large communal shower stalls in the main washroom. These showers use an 'on-demand' hot water system, which is more economical. And you won't run out of hot water!
And then there's the outdoor kitchen. It is fully equipped with dishes and pots and pans, just like the main kitchen. Guests can use a locker to keep their dry goods in, and a large fridge is available for perishables. This kitchen has a propane cooktop and several BBQ's on its patio.
The outdoor shower at the end of the room block was damaged last winter. With so many things on our To Do list, it was not replaced this summer. We hope to have it ready for spring 2020. We know you all like to shower outside in the fresh air!
Speaking of outdoor showers, there will be one on the deck by the hot tub and conversation pool. Many guests have walked up that half set of stairs only to realize they lead to a big rock and nothing else. That rock will become our outdoor shower to clean off before you slip into our pool or hot tub.
There are also some changes and upgrades planned to include an outdoor kitchen area by the lounge, where the large outdoor fridge and BBQs are. Stay tuned in 2020 to see what Rai and Matt have planned for that area!
So, as you can see, things are changing around Sandy Bottoms, and you'll enjoy the benefits in the years to come! See you on the beach next summer!