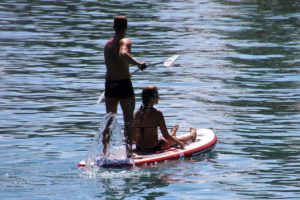 Guests at Sandy Bottoms often arrive for the first time with no real idea what to expect at our Adults Only, clothing optional resort but arrive none the less with an open mind and a sense of adventure.
Take this one couple who were too shy to approach others and introduce themselves. After sitting out on their first night and missing the party, they told me in the morning that they thought the party sounded great but they didn't go out and talk to anyone. I immediately introduced them to a small group nearby who were all having coffee and chatting. The shy couple sat quietly off to the side, but they stayed and integrated into this group. They spent the next two days hanging out with this group, floating on the lake, sharing meals and stories.
Two days later, we held our "Sexy Olympics", where we form teams of 6 and compete against other teams. Two of the teams were tied for first place, and I decided to have a couple from each team go out on a paddleboard on the lake. They had one minute to get into as many sexual positions as they could. One of the teams didn't have a couple but were allowed to find a proxy to compete for them.
When it was time to head out onto the water, the proxy couple was none other than the shy couple from two days before.
They went out on the board, and not only were they graceful and sexy glistening in the sunshine, but they won the game! I could not believe that two days after being too shy to even say hello to another couple, they were naked on the lake, and creating quite a stir, to many cheers and much appreciation from the onlookers.
I'm so proud to say that Sandy Bottoms instigates a comfortable, non-judgemental environment where couples can explore their clothing-optional journey without worry or judgment.
Other couples arrive with no intention to get naked, or even partially undressed, but invariably after a few days of viewing the states of undress other guests and their confidence level, they change their mind. Maybe it starts by going topless or wearing something gauzy and see-thru in around the grounds, or skinny dipping in the dark. By the end of their vacation with us, they often push their own boundaries much farther than they intended to. Most report it's the comfortable atmosphere that allows them the freedom they feel.
Whatever first steps our guests take in their clothing-optional journey, we're proud to be the resort they chose to explore at!