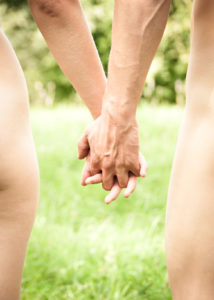 There's always something to do at Sandy Bottoms resort, a private, adults-only, clothing optional resort designed for sexually adventurous couples! There are so many amenities that are included when vacationing at Sandy Bottoms: go for a stroll on a hiking trail or take the bicycles for a spin. Swim in the lake or cool off in our new conversation pool. Take one of our non-motorized boats out to paddle around our private lake surrounded by crown land. Bask in the sun on our private beach or hanging out at the Cabana with other like-minded couples. Make use of our tabletop or yard games… you'll never get bored!
Meal Times
Use one of the cooking areas or BBQ up a delicious meal for you and your sweetie, or share with other guests and new friends. Meal times become quite a social time when many couples come together in the kitchen and lounge to prepare a meal. If you've forgotten anything, it's likely someone else will be happy to share. Just ask! (New for summer 2019: Outdoor kitchens! Plenty of room to spread out!)
Besides all the normal amenities offered inclusively at Sandy Bottoms for the guests use, such as yard games and nightly campfires, in 2018 we introduced a special, sexy schedule of events that many guests enjoyed. Of course, it's up to you if it's something you wish to participate in! We only offer this as an option for those who are interested.
Past Events
Last year we offered things like body painting on the beach (we supply the paint and brushes, you supply the canvas and artistry) and themed dances most evenings (PJ, Wild West, Glow and Bikinis on the Beach). There's a Drum circle and jam session at the campfire one evening, and naked yoga every morning on the dock. The afternoon Blender Party was a blast and well attended! Just bring your own alcohol and we'll blend up a delicious, icy blender drink for you.
Team Events
The "Sexy Games of Chance" are played by teams of 2 (couples, or pair up with your new best bud) include such games as Ring Toss, Beer Pong, Ping Pong, and other favorites, but with a fun and sexy twist! The Sexy Olympics are played by teams of 6 and include a relay race or two, and an obstacle course among other team-building exercises. These games are clothing optional but do wear running shoes for safety's sake.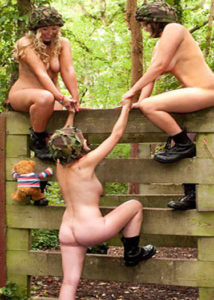 We also host a weekly PotLuck dinner which is usually very well attended. This is a great way to meet everyone and have a chance to chat with those you haven't met before.
Foam Party!
And, to help celebrate your vacation with us, we have a foam party on Saturday evenings, weather permitting of course. This is always a slippery, sexy blast! Bring eye protection (swim goggles work well), as well as a towel and enjoy the experience!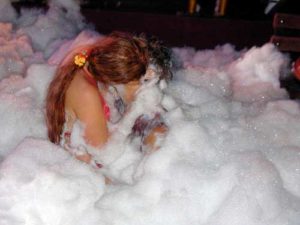 2019 Themes and Schedule of Events
The week-long themes for summer 2019 are sure to inspire some new, fun events and themed parties, so watch the Events & Activities page on our website for updated events for 2019.
So how 'bout it? Why not join us for a clothing optional Fun in the Sun vacation this summer at Sandy Bottoms Resort, where you can check your inhibitions at the door and enjoy some time with your sweetie in a new, exciting way!