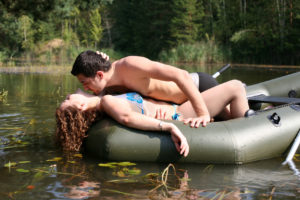 After a long, cold and particularly snowy winter, minds automatically turn to summer vacation and the infinite possibilities. But not just any vacation will do. You are dreaming of THE Vacation and the naughty possibilities you crave. Does this sound like you? Top 13 signs you are craving a visit to Sandy Bottoms this summer!
Find yourself checking prices and availability of huge floating rafts for the private lake at Sandy Bottoms
With a raft party scheduled on Saturdays, you may want to show off how big yours is! Your raft, that is.
Feel so pale from the winter indoors and dreading tan lines
Of course, by the time you get to Sandy Bottoms, the tan lines have already started, so plan some time on the beach or lake sans the suit and even out that tan.
Past vacations from Sandy Bottoms pepper your spank bank and are making more frequent appearances in your fantasy life
We're so pleased to be making an appearance in your erotic life, even if only as a backdrop. Let's make some more memories this summer, shall we?
Have shopped for and already packed a Sexy Uniform and other costumes for the themed nightly parties
With so many themed parties, the costume options are pretty endless. Pack something that makes you feel super sexy and flirty, and enjoy!
Find yourself checking the Schedule of Events and dreaming up new costumes and accessories
Naughty Uniform night, Luau, Wild West, Pasties night and Glow Party…. there are surely some fun opportunities here!
Check your favorite swinger dating site to see if anyone else is talking about it
Practically every dating site, like CafeDesire, Kasidie, and Swinging Heaven, has a forums section. Check those for posts from others who have been to Sandy Bottoms previously for extra input. Post a question and chat with others who have been there.
Start a Forum about naughty summer vacation destinations
Can't find existing forums about Sandy Bottoms? Start your own! There are surely others out there with the same questions and need for info you do.
Read and re-read the content on the official site to see if you've missed anything important
There is a lot of information there. Of course, if you don't see the answer to a burning question you have, feel free to contact us.
Print out the Schedule of Events so you can be sure to have everything you might need to participate
Carry this with you when out shopping. You never know when you'll find that perfect accessory for your naughty summer vacation!
Stockpiling your favorite alcohol and wine for vacation
Since Sandy Bottoms isn't licensed, guests BYOB. Many guests say they start stashing away a bottle occasionally to save for vacation. There is Wine Tasting scheduled on Wednesdays, so save a bottle of your favorite vino to share with others.
Resolve to pack nothing but a sarong for the beach and a sweater if it gets cold
Well, maybe you'll need a little more, but that's up to you. There are other ways to create heat and keep warm!
Research and compile easy recipes so you'll spend less time in the kitchen
Although meal times are very social at Sandy Bottoms, we wouldn't blame you for trying to stay out of the kitchen. It is your vacation, after all!
Dig out your Name necklace and stash it in your suitcase, just in case
Our guests really appreciate the name necklaces we made last year, as it helps our foggy memory with the names of all the new couples we'll meet. And you can wear it all week, whether in the lake or hot tub or making a drink in the Cabana.
So, if any of these resonate with you, we think you're pining for a bit of Sandy Bottoms time this summer! If you haven't booked your vacation yet, what are you waiting for?