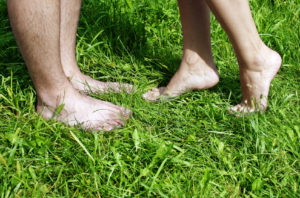 If you are considering booking a vacation with Sandy Bottoms Resort, you may have some questions about what's available on site. We'll try to answer that here!
First of all, Sandy Bottoms Resort is secluded on private property, tucked away among towering pines and surrounded by natural green space. The resort has it's own private lake that is surrounded by crown land. That means there are no cottages across the lake, and therefore no binoculars trained on guests on our clothing-optional resort. Occasionally, we can hear the neighbors, but we can't see them.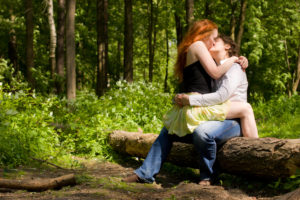 The Grounds
Sandy Bottoms is situated on 10+ acres of pristine natural beauty and we try very hard to keep it as natural as possible. Please dispose of garbage and cigarette butts appropriately to help us in this endeavor!
There are plenty of seating options dotted around the resort, making it easy to get away on your own or join others to socialize.
Arrival & Parking
As we are a private resort, we only give the address upon confirmation of your vacation with us. Please note, there is no business sign at the road. We ask that you watch for the address marker. When you turn into the laneway, drive up until you pass the iron gates. When the driveway forks, take the right lane and drive up to the main building. To the right of this building, you will see an impressive rock wall. Park here then walk into the Lounge to get signed in. There is no 'Front Desk' but someone will meet you there to get you settled.
After you've unpacked into your accommodations, we ask guests to park in the parking area. This provides a beautiful view of the lake and grounds instead of a line of cars.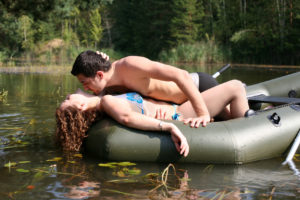 The Beach & Lake
We have a sandy beach area with plenty of lounge chairs and a floating day bed. There is also a dock with comfortable seating, including wicker couches, covered seating and ample space to spread out. There is a campfire pit at the beach for nights when we decide to party on the beach.
We offer plenty of non-motorized boats for our guests, free of charge. Kayaks, canoes, standing paddle boards, a pedal boat and a rowboat are all available. Guests often bring blow up floaties to while away their days on the lake. We often host a 'Raft Party' which encourages everyone to hang out on the lake together for the afternoon.
There is a long dock situated on the lake away from the beach, and this offers a quieter place to relax. We often do yoga in the mornings out there. It is easily accessed from the beach, from the lounge or the cabin area. There is a long set of stairs to descend from Lounge and Cabin.
Check out our other blog posts that will cover nudity, activity, and other Must Know information!