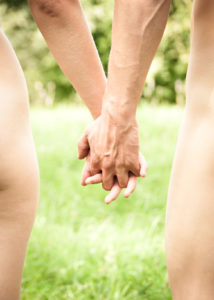 Are you titillated by the thought of vacationing at a Clothing Optional resort but nervous about it at the same time? Not to worry, that's what all the first timers say! You are not alone! At Sandy Bottoms Resort, there is no requirement that you get naked at any point in your vacation, but the option is there for those who want to take it.
In fact, the resort creates an Adults Only, child-free vacation destination for adventurous couples who are looking for something outside the box. Many guests at Sandy Bottoms say they have no intention of getting naked, but it usually seems to happen by day 2 if it's going to happen at all. Seeing other naked bodies displayed without shame or inhibitions helps mellow constraints, allowing novices to loosen up a bit.
What to Pack
Remember to pack all the items you would usually pack for a vacation at a tropical location: sunscreen, bug spray, hat, and a good book, assuming you find time to read. We suggest you also bring a sarong or other light wrap. This helps you to FEEL naked when you aren't, which is a great first step! This is great advice for the guys as well!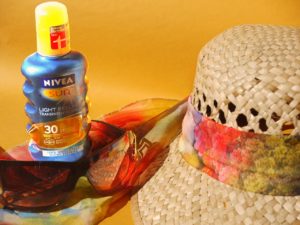 Bring a plastic or metal To Go cup with a lid, as there is a No Glass rule at Sandy Bottoms for safety's sake. Many guests bring huge blow-up floaties to float around our lake on, and in fact, we've added a "Float Party" to the schedule as this has become quite popular.
Dressing in Theme
Most guests check the schedule before heading to Sandy Bottoms so they can pack appropriately themed sexy costumes and outfits to fit the themed parties. In past, that's been Dukes n Boots for the Wild West Night, bright club wear for the Neon Night, and coconut or shell bras for the Luau Night.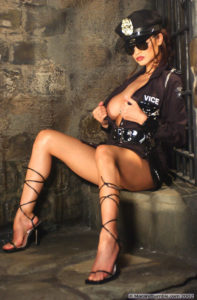 Eat, Drink & Be Merry
Don't forget, Sandy Bottoms is not licensed and there is no restaurant on premise. Bring all you'll need to cook and eat, and bring your favorite drinks, alcoholic or not!
In fact, one of the events is a Blender Party, where guests bring their own alcohol and the resort supplies all the bar fixin's to mix up great icy blender drinks for the guests on a hot afternoon. This is a great Mixer event where you can meet the other guests.
Naughty Shenanigans
Well, yes, this does happen. We're all adults, and sometimes the mood strikes. But we ask our guests to refrain from playing in the lounge and on the deck including in the hot tub and pool. In so doing, we have a neutral area for those who just don't want to see this, and for hygienic reasons. This rule extends to the resorts fabric furniture as well. There are plenty of other places to play, including in your room.
Rules
Sandy Bottoms doesn't like to create rules and expects guests to use common sense while vacationing there. But common sense isn't always as common as we'd like. One hard and fast rule anywhere nudism is allowed is this: If you are naked, put something under you when sitting or laying down. Don't put your naked or skimpily clad bottom onto furniture without a barrier under you: use a towel or sarong.
Consent is another big rule we'd like to address. Not just sexual advances, but how about a hug? It seems innocent enough, but in this atmosphere, it's just insurance that it won't be seen as more than just a hug.
One vacationer last year told me, "When I'm in normal society, I'm a hugger. I hug everybody. But when I'm at a nude resort, I like my personal bubble to be respected, and that means consent to be hugged. Even having someone I know put an arm around my shoulders when either of us is even partially unclothed just makes me feel uncomfortable."
No Glass Rule
Many people forget this one or figure they won't drop or break a glass bottle. But it happens more often than you think, and rarely when someone is drunk. We enforce this rule pretty heavily because one broken glass bottle is a LOT of work to clean up. Between falling between the deck boards, scattering into the grass or mixing into the beach or lake, it is difficult to completely contain. So, bring a plastic or metal cup to carry your beverages in outside your room. Or consider buying your beverages in cans!
Photography
Photography is another rule that gets abused a lot. We are a society that whips out our cell phone to capture a moment, but that is discouraged at Sandy Bottoms. Worrying that your naked image was captured in the background of someone's picture can ruin a vacation. If you are going to take a picture, please be sure no one is in the background. We will delete images if this happens, so be extra careful!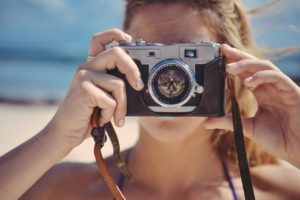 There are, of course, a few other rules and etiquette to observe, and you can find those right here. Still have questions? Check out our FAQ page as well. Please have a look to be sure we are all on the same page!
All this to say, that if you feel nervous about vacationing at Sandy Bottoms, give it a try! You won't be disappointed! So many guests before you have arrived with the same trepidation, but often end up extending their vacation, or returning later in the season. About half of our guests each week have been there before, but that means the other half is just like you: New to Sandy Bottoms! Join us, won't you?