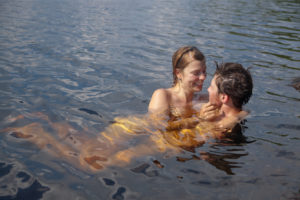 Swimming Options
There is, of course, our private lake. It's fairly small, which is why it's all ours. And while it is fairly shallow around the edges, the center is at least 30 ft deep. It is spring fed which keeps it clean and clear. You may notice cold pockets as you swim out by the diving platform and the trampoline. There are plenty of kayaks and canoes so you can get out to the diving platform easily.
We have a conversation pool as well. It's heated but we keep it cool on purpose. It's warmer than the lake but cooler than the hot tub. The pool is an oval design with seating all the way around. It can hold at least 20 people.
The hot tub is located on the lower tier of our deck, next to the pool. The hot tub is usually set at around 101F and can seat 6-8. More than that and water is displaced, making it difficult to keep the PH balanced. We ask our guests to refrain from overloading the hot tub.
All guests are asked to bring their own towels for use at the beach, hot tub, and pool. Only the rooms include towels for showering. Guests in villas and cabins will need to bring towels for bathing as well.
Meal Times
We are a Self Catering resort, which means we do not have a restaurant on site, and we are not licensed. All guests need to bring food and drink with them to consume during their stay. A lot of guests like this, as it is more economical. Meal prep time becomes quite the social time at Sandy Bottoms! Guests get to know each other and often share a meal together. As we get busier each year, we have found it gets a little hectic in the indoor, communal kitchen so we have added outdoor cooking facilities to help offset this. And of course, there are several BBQ's dotted around the resort, all with propane provided.
The kitchens are well equipped and you'll find everything you'll need to prepare and cook meals. Each room, villa, and cabin has a fridge in it for your convenience. There is also a large commercial fridge in the main kitchen, as well as an even larger fridge just outside in the outdoor kitchen. There are also fridges in the Cabana, and the outdoor kitchen by the Villas. You can also cook on the stove top grill in the Cabana and outdoor kitchens, so there is plenty of room to spread out at meal times.
The kitchen is so well equipped! We have everything you'll need: pots and pans, dishes, cutlery, cups, and plastic drinkware, mixing bowls, Pyrex baking dishes, cookie trays, cheese graters, spatulas, BBQ utensils. As for appliances, we supply coffee maker & Keurig machine, toaster, tea kettle, hand mixer, and even a blender! We also have an ice machine for drinks in the Lounge.
If you've forgotten anything, the closest town is only 15 minutes away and has everything you'll need. Don't want to cook while on vacation? There are plenty of dining options in town as well.
Activities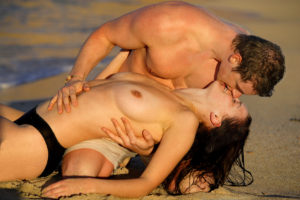 There's always something to do while at Sandy Bottoms! Take the bikes for a spin, or hike the trail around the lake (get dressed first! No Bares Past *This* Point!). Set up one of the many yard games and challenge your sweetie or another couple to a game. Cards and board games are available in the lounge, and great for those rainy days.
Speaking of which, when it rains, we take the party to The Dome, a 1500 sq ft covered party space, complete with stage and dance floor. There are plenty of tables and chairs, as well as a ping pong table and basketball toss game. The amenities in here change often, but do check it out while staying with us!
On rainy days, we might organize a Games of Chance activity where guests pair up and play thru a succession of games, competing with other teams. At night, we'll turn up the music for a dance party. So don't worry, you won't be stuck in your room if Mother Nature decides to rain on our parade!
There is a Schedule of Event at Sandy Bottoms, with themed parties, games, competitions, body painting, volleyball, and more. There is absolutely no requirement for guests to participate. These are for those who would like to join in. They are great ice breakers to get to know other guests and to get active. But if you're not feeling it, we won't be upset!